4 Signs You're Ready To Rebrand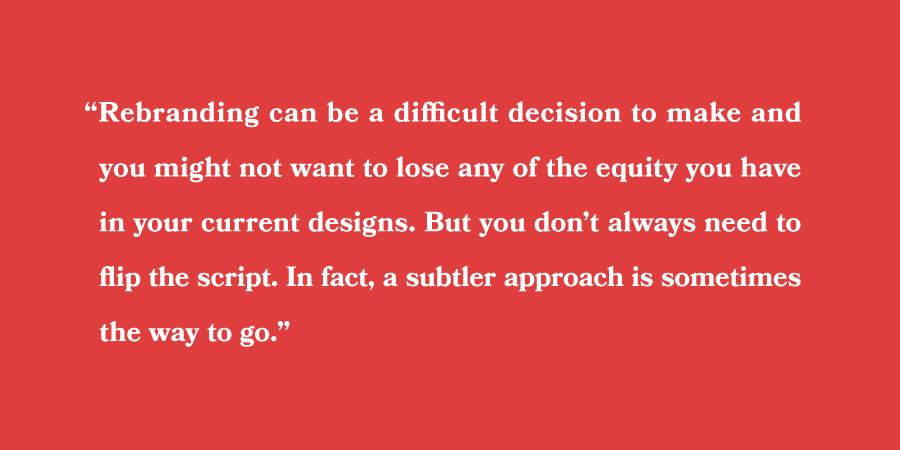 Rebranding. That word can sound intimidating. After all, it took loads of time and effort to establish an identity and apply a look and feel to your business. However, it doesn't have to be scary and it might just be the boost you need. Here are some clues you may be ready to take the leap and rebrand your business.


1. You are offering new services and interacting with new crowds
As you expand into new territories you might find additional services are becoming a main function of your business. Maybe you're a food truck owner who wants to open a full fledged restaurant and your branding screams meals on the move. With such an expansion, you might want to draw in more followers who are unfamiliar with your humble origins. Refining the look of your business to interact with fresh faces could be a necessary step to take along with your new accommodations.
2. The landscape has evolved
Sometimes it's the environment around your business that changes, and you have evolve with it. You'll often have to make big transitions just to stay relevant, and these adjustments can completely transform how you operate. You might have to compete with emerging industries, use new technologies, and create new methods to serve your customers. If any of these things have caused drastic shifts in how you run your business, it might be time to reconsider your current image and look at things from another perspective.
3. Your business has changed over time
Perhaps your small coffee shop is growing into a popular bistro, and it's been a while since you last even thought about making any major changes to your branding. The subtle day-to-day changes in your business can build up over time, and your company may end up being very different than when you started it. If you get the feeling that things are changing in ways you never imagined, it could help to re-focus and find new ways to communicate your growing business models more effectively.
4. You feel lost in the shuffle of other similar businesses
Are you speaking to your audience uniquely and loudly? Find some competitors that stand out and see what strategies they use to attract new admirers and keep a strong following. Think about what makes your business special and what you offer that will give you the edge when compared to the others. If all of your competition looks the same, you may be in a unique position to set a new standard in your market. If you see the opportunity to set yourself apart from the crowd, jump on it!
Do one or more of these things apply to you? You might want consider rebranding to take your business to new heights. It can be a difficult decision to make and you might not want to lose any of the equity you have in your current designs. But you don't always need to flip the script. In fact, a subtler approach is sometimes the way to go.
If your branding needs work, or if you would just like consultation please send me an email at hello@www.samwasserman.com. I'd love to help!
Categories: Branding Tags: brandingdesignlogosrebranding
Share This Post: